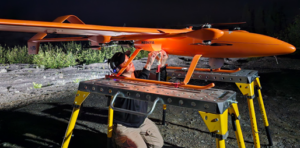 CONCORD (September 19, 2023) ─ US-based ArgenTech Solutions, a leader in Unmanned Aerial Systems (UAS) fire monitoring, and Quebec-based Exo Drone, an acclaimed drone training, specialized operator, and innovation pioneer, teamed up in Laval, Quebec, and provided SOPFEU (Société de Protection des Forêts Contre le Feu) emergent fire monitoring support for the raging wildfires in Quebec.
As Canada grappled with an alarming loss of over 11.5 million hectares (about the size of the entire state of Pennsylvania) to wildfires this year, ArgenTech Solutions and Exo Drone collaborated over a 35-day period to survey, map, and analyze the active wildfires (including the Wemindji wildfire in the northern reaches east of Hudson Bay). While ArgenTech Solutions provided their skills to fly the FireEye in multiple wildfire locations, Exo Drone provided mapping expertise to translate quickly and accurately the acquired data from the FireEye into important insights for SOPFEU incident commanders; these insights allowed the commanders to know exactly where to deploy their firefighting teams strategically. Together, ArgenTech Solutions and Exo Drone provided critical data intelligence in real time.
At the heart of their collaboration is ArgenTech Solutions' FireEye, a VTOL (Vertical Takeoff and Landing) UAS specifically designed to withstand the unique environment of a wildfire. Equipped with the Trillium HD-45 EO/IR (Electro-Optical/Infra-Red) camera, the FireEye directly reduces the risk to manned aviation by providing an alternative unmanned solution that relates real-time visuals to firefighting teams even in low visibility. ArgenTech Solutions' and Exo Drone's work helped to protect communities, essential infrastructure (including transmission lines from Hydro Quebec), and Canada's vast forests, ensuring a prosperous future for all.
In the coming weeks, ArgenTech Solutions and Exo Drone will combine their efforts again to bring into service two newly specialized VTOL UAS platforms for wildfire monitoring: one based on the Carbonix Volanti and one based on ArgenTech Solutions' newly developed Aquila, a derivative product of their acclaimed FireEye VTOL UAS.