The ArgenTech Solutions wildfire monitoring team, based out of Vancouver, WA, provided Unmanned Aerial Systems (UAS) coverage for the Cedar Creek wildfire in the Willamette National Forest near Oakridge, OR. Using ArgenTech's internally developed FireEye UAS with Trillium HD-45 EO/IR camera, ArgenTech provides real time fire line visual and infrared mapping while checking for new fires caused by lightening. The use of UAS provides the fire service a unique tool to help reduce the risk for manned aviation assets when visibility is severely degraded. ArgenTech provides live real time status to the Type 1 Incident Management team which provides planners the information they need to best deploy their firefighters to protect property and lives.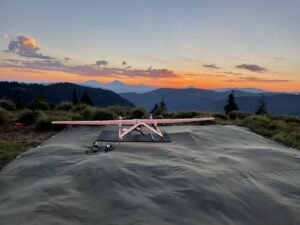 ArgenTech's FireEye UAS on site at the Cedar Creek Fire, Willamette National Forest, Oregon
ArgenTech Solutions, Inc. is a Veteran owned, small business headquartered in Newmarket, New Hampshire with an office also in Vancouver, Washington. In addition to overseas unmanned services support for the military, ArgenTech Solutions is a multi-faceted small business that specializes in technology development and the integration of those products into the marketplace.
ArgenTech Solutions is an Equal Opportunity Employer. You can find out more about us at https://argentechsolutions.com/