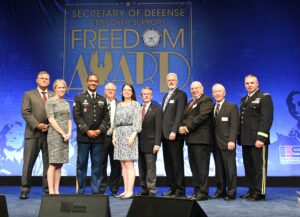 WASHINGTON ­– Secretary of Defense James N. Mattis named ArgenTech Solutions as one of the 15 recipients of the 2018 Employer Support Freedom Award today, signifying ArgenTech Solutions as one of the nation's top employers for National Guard and Reserve service members.
"It is my pleasure to recognize these 15 outstanding civilian employers," said Mattis.  "Our National Guard and Reserve members are a vital part of our defense strategy and deserve as much support as this country can provide.  These 15 employers lead the way in providing that.  We are grateful to them for their role in helping to keep our nation safe and secure."
ArgenTech Solutions, Inc. along with 14 other recipients of the 2018 Secretary of Defense Employer Support Freedom Award joins 250 past recipients of the award.
The freedom award was established in 1996 to draw attention to the support provided by patriotic employers who go above and beyond in support of their Reserve Component employees.
ArgenTech Solutions, Inc. supports their military employees by providing 30 days of full-paid leave annually to help bridge cash flow transitions from a civilian to a military paycheck. Employees retain the same benefits for up to three months. Furthermore, the company trains their supervisory staff in Mental Health First Aid for Veterans and Military through the National Council of Behavioral Health to help identify and respond to danger signs of Post-Traumatic Stress Disorder.
ArgenTech Solutions, a New Hampshire based small business, with offices in Vancouver Washington, was selected for this prestigious award from nearly 2,000 employers who were nominated by more than 2,350 Guard and Reserve service member employees.
For more information about the Freedom Award and this year's Freedom Award recipients, visit www.FreedomAward.mil. To learn more about ESGR, visit www.ESGR.mil.