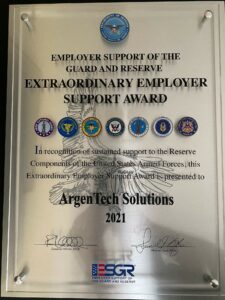 ESGR's Extraordinary Employer Support Award was created to recognize sustained employer support of National Guard and Reserve service. Only prior recipients of the Secretary of Defense Employer Support Freedom Award or the Pro Patria Award, who have demonstrated sustained support for three years after receiving one of those awards, are eligible for consideration at the committee level. Subsequent awards may be given in three-year increments from the initial award.
Recognizing supportive employers is vital to ESGR's mission. ESGR's 54 State Committees actively promote awards as a key element in furthering employer support, while strengthening relationships between Service members and employers. These Department of Defense awards honor the sacrifices made by so many employers year after year.
ArgenTech Solutions, Inc. is a Veteran owned, small business headquartered in Newmarket, New Hampshire with an office also in Vancouver, Washington. In addition to overseas unmanned services support for the military, ArgenTech Solutions is a multi-faceted small business that specializes in technology development and the integration of those products into the marketplace.
ArgenTech Solutions is an Equal Opportunity Employer.