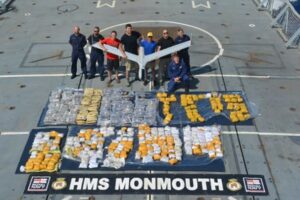 ArgenTech Solutions (AgTS) is proud to recognize AgTS ScanEagle Operator, Troy Spence, and the team aboard the UK Royal Navy's HMS Monmouth in working together to successfully seize 455 kilos of cannabis and 266 kilos of heroin during a recent mission in the Indian Ocean.
The HMS Monmouth is part of a coalition of warships for Combined Task Force 150 (CTF150) with the mission "to promote maritime security in order to counter terrorist acts and related illegal activities, which terrorists use to fund or conceal their movements." You can read more about the HMS Monmouth and its mission here.
HMS Monmouth seizes £65M of heroin and cannabis in major drugs bust
ArgenTech Solutions, Inc. is a Veteran owned, small business headquartered in Newmarket, New Hampshire with an alternate office in Vancouver, Washington. In addition to overseas unmanned services support for the military, ArgenTech Solutions is a multi-faceted small business that specializes in technology development and the integration of those products into the marketplace. ArgenTech Solutions is an Equal Opportunity Employer.