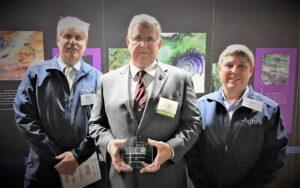 ArgenTech Solutions (AgTS) is honored to receive Business NH Magazine's 2018 5-Star Award for Veteran-Owned businesses.
ArgenTech Solutions is a Veteran Owned Small Business that is adept at creating partnerships with industry, military, industrial facilities and academia. This approach provides access to personnel, facilities and technical expertise that one entity alone might not be able to provide while creating unique, world class solutions. This approach also provides its customers the most cost effective, comprehensive solution to meet their specific needs.
Five out of the six AgTS owners are veterans.  In addition, AgTS is comprised of 89% former military employees and about 30% National Guard and Reservists.
Owners, Keith Haney-CEO, Robert Meyer-Commercial Services and Russell Mason- International Business Development, were presented with the award at the 2018 Ultimate Biz Bash on October 15, 2018.
ArgenTech Solutions, Inc. is a Veteran owned, small business headquartered in Newmarket, New Hampshire with an office also in Vancouver, Washington. In addition to overseas unmanned services support for the military, ArgenTech Solutions is a multi-faceted small business that specializes in technology development and the integration of those products into the marketplace.
ArgenTech Solutions is an Equal Opportunity Employer.