At ArgenTech Solutions, Inc., we develop, operate, and maintain our own proprietary fleet of UAS specifically engineered to meet the needs of our emergency services clients. Whether providing ISR functions to teams battling wildfires or mapping large-scale natural disaster sites, our FireEye platform is a proven and capable system with a history of success in emergency response operations.
AgTS is proud to support the men and women who risk their lives to protect all of ours!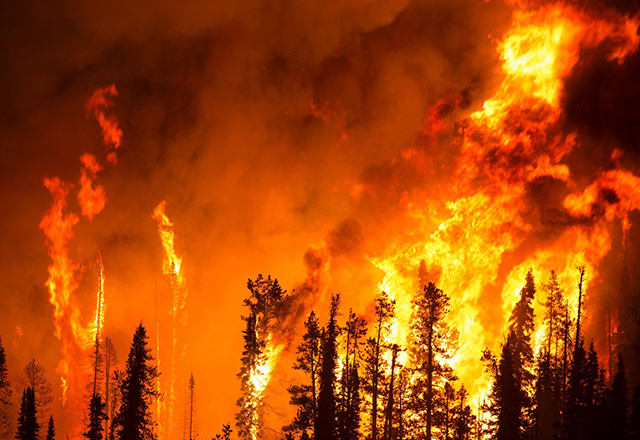 Image of Mobile Operations Command
To ensure operational success in our FireEye missions, AgTS has invested in a customized Mobile Operations Command (MOC).  Our MOC is outfitted with all the tools, electronics, radios, food and sleeping accommodations, and everything else needed to allow our operators to function autonomously on-scene for days at a time.  During the primary months of the wildfire season on the West Coast of the United States, our Mobile Operations Command (MOC) is continuously staged at a strategic location that allows for rapid response to any incident we may be called to.
Image of Thermal Hot Spots
During a major wildfire, manned aviation assets cannot fly at night due to the heavy smoke and other safety factors.  Our FireEye unmanned platform carries an advanced infrared (IR) sensor package that is able to see through smoke and identify "hot spots" on the ground.  Our system can then geo-reference any specific areas of concern that are identified so that the Incident Commander (IC) can direct responders to those areas.  Identifying these trouble points from the air helps the IC to prioritize the deployment of responders and other aviation assets to the areas of most critical need.
Image of Wildfire Incident Commander
During our flight operations, we work closely with the designated Incident Commander (IC) to receive real-time tasking to areas of concern.  With our ability to remain in the air for hours at a time, the FireEye can provide immeasurable amounts of useful data to the IC.  Often, this data reveals trouble spots that are previously unknown which allows the IC to deploy personnel to those areas ahead of any significant outbreaks of additional fires.  The AgTS FireEye is just one of the many critical tools available to emergency responders but, when used to its fullest, it can truly help minimize the damage caused by wildfires.
For more information on the AgTS FireEye and its capabilities, we welcome you to watch the introductory video, below.