CONCORD (August 12, 2023) ─ US based ArgenTech Solutions, a leader in Unmanned Aerial Systems (UAS) Fire Monitoring, teamed with Laval, Quebec based Exo Drone, an acclaimed drone training, specialized UAS operator, and innovation pioneer, to provide SOPFEU (Société de Protection des Forêts Contre le Feu) emergent fire monitoring support for the raging wildfires in Quebec.
As Canada grappled with an alarming loss of over 11.5 million hectares (about the size of the entire state of Pennsylvania) to wildfires this year, ArgenTech Solutions and Exo Drone recently teamed over a 35-day period to surveil, map, and assess active wildfires including the Wemindji wildfire in the northern reaches east of Hudson Bay. Where ArgenTech provided their skills to fly the FireEye in a variety of locations; Exo Drone provided mapping expertise to quickly translate the acquired data into useful products for SOPFEU incident commanders to use for fire team deployment. Together, each company provided critical data capture and intelligence in real time.
At the heart of their collaboration is ArgenTech Solutions' FireEye VTOL UAS which was designed specifically to withstand the unique environment of a wildfire. Equipped with the Trillium HD-45 EO/IR (Electro-Optical/Infra-Red) camera, the FireEye directly reduces the risk to manned aviation by providing an alternative unmanned solution that relates real-time visuals even in low visibility.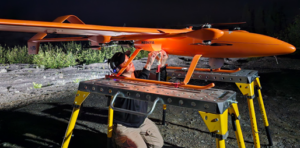 ArgenTech Solutions preparing the FireEye VTOLfor nighttime Operations in Quebec
Together ArgenTech and Exo Drone will build on this first major collaborative effort to further expand their partnership to help bolster firefighting efforts with the aim of preserving communities, forests, and essential infrastructure including transmission lines from Hydro-Québec.  In the upcoming weeks, they will combine their efforts to bring into service two new specialized VTOL platforms for wildfire monitoring; one based on the Carbonix Volanti, and one based on ArgenTech's own newly developed Aquila, a derivative product of their acclaimed FireEye VTOL UAS.
__________
For comprehensive insights into ArgenTech Solutions and the FireEye, navigate to ArgenTechSolutions.com. Follow their endeavors via LinkedIn. Immerse yourself in Exo Drone's pioneering strides at ExoDrone.com. Follow SOPFEU's updates via LinkedIn.
Contact Information:
CEO of ArgenTech Solutions, Brian Veroneau
Email: bveroneau@ArgenTechSolutions.com
Business Development at Exo Drone, Benoit Germain
Email: benoit@exodrone.com
ArgenTech Solutions
ArgenTech Solutions is a trailblazer in unmanned aerial systems (UAS) integration, driven by the imperative to effect change. ArgenTech Solutions' expertise encompasses UAS pilot training, commercial and private UAS missions, compliance solutions, and advanced drone development. Their partnership with Exo Drone underscores their commitment to harnessing technology for a safer, more sustainable world.
Exo Drone
Exo Drone stands as a vanguard of innovation, shaping the future of drone technology. As a prominent drone training, specialized UAS operator, and innovation center, Exo Drone's endeavors encompass pilot training, compliance solutions, specialized UAS operations, and advanced drone development. This collaboration with ArgenTech Solutions exemplifies its mission to catalyze positive change through technology.